Teaching Vector Art on Skillshare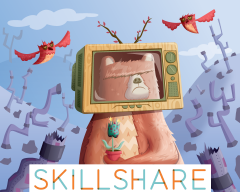 Want to learn to draw in Illustrator and feel unencumbered by the technical aspects of the software? Well I'm teaching a class on Skillshare that is aimed at helping artists learn to ease their experience with vector art. It's called Creativity, Style, and Efficiency in Adobe Illustrator. Like all of the classes on Skillshare, it's all prerecorded so you can learn at your on pace and view the lessons as many times as you like!
An Online Skillshare Class by Chris Leavens
My goal in creating the class is to step artists through my process of creating art by drawing a story scene entirely in Illustrator. Along the way, I cover a variety of Illustrator techniques, including:
Masking, focusing primarily on Illustrator's powerful Draw Inside mode
Soft shading: I'll show you a fast and simple technique I use to create soft, shaped shading
Custom brushes: We'll create custom art, bristle, and scatter brushes that will look great and help save time.
Pen tool tricks and time savers
Harnessing the power or the Appearance panel
Organization and workflow tips
And a whole lot more. Sign up today and use the code DESIGN to save 20% on the class. Feel free to use the comments section to ask any questions about the class! Hope to see you on the enrollment list.
Category: