New and Improved Website!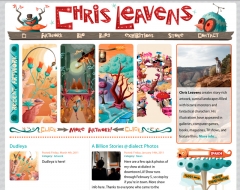 The all-new ChrisLeavens.com is finally here! After tons of delays, I finally found the time to completely overhaul the site, moving it to an entirely new backend powered by Drupal 7. My hope is that the newest iteration of the site better conveys the look and feel of my artwork. Interested in the technical bits? Read on. I promise I'll keep it brief.
I really like the idea of using a CMS to power a portfolio site, so I checked out a bunch of different platforms. I realize nearly everyone's using Wordpress, but I've tinkered with it and I'm not a really big fan. Maybe I'm missing something, but it seemed to me like Wordpress was missing a lot of the functionality I was looking for. Drupal, on the other hand, while not as easy to jump into and just "get," is super-customizable and easy to extend once you wrap your head around it. Honestly, I've had a bit of practice as I've had to work on a few rather large projects that have been Drupal-based, so it wasn't a massive leap for me to jump in and customize a Drupal for my needs.
I chose to use Drupal 7 since it's the latest release and it's obviously the direction the platform is moving in. The new admin UI is much, much easier to use than previous versions. Also, in the past, integrating images into a Drupal site required a lot more work and the installation of modules. Now image support is built directly into the core of the system. Aside from installing a theme (which I fully overhauled and customized anyway), I only added a few modules: Views (allows users to *highly* customize the way data is displayed), Mollom (spam filtering), Google Analytics, XML sitemap, and Colorbox (makes portfolio images pop up in their own nice little windows). Once I got all of that sorted out, it was mainly just a bunch of CSS tinkering until I felt good about the site.
Hope things look good! Let me know what you think or if you've got any questions.
Category: