A Trip to Leavens World at OTTO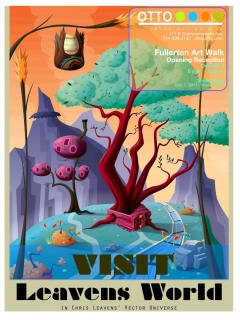 This Friday, October 7, 2011, a small exhibition of my work will open at OTTO in Fullerton, CA. They're calling it "A Trip to Leavens World," and it features my usual mix of bizarre creatures and strange landscapes. Twelve limited-edition vector-art prints will be on display. If you're in or near Southern California, stop by on Friday and say, "Hello!" More info:
Opening reception takes place during the Fullerton Art Walk from 6 p.m. - 10 p.m.
OTTO
111 E Commonwealth Ave
Fullerton, CA
I'll even be demonstrating some vector techniques for those who might be interested. Look forward to seeing you there!
Category: