Skateboard for On Deck VI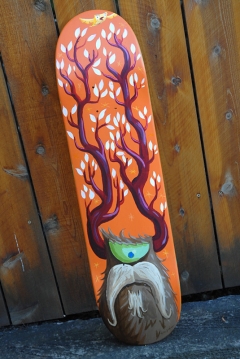 For the second year in a row, I was invited to decorate a skateboard for the Montana Skatepark Association's annual On Deck art auction. The auction helps raise money to build and maintain skateparks in Montana, giving kids who might be otherwise-occupied something fun and mischief-free to do. It's a very good cause and it's loads of fun to work on. Big thanks to the MSA for a second opportunity to contribute!
As for my mode of artistic attack on this sucker, I painted it with acrylics. I've got a bunch of paint in my reserves from when I used to paint more, so there was plenty to choose from. That said, I relied pretty heavily on conventional CMYK color mixing. I always make sure I have tubes of process colors in my paint drawer. It's hard to break from my vector-borne color mixing habits. Painting this was a nice change of pace -- I might try to do a few more painting when summer comes and it's a bit warmer outside. By the way, my two-year-old daughter's holding the skateboard in the last shot.
More info on the auction will be posted as soon as I've got it. It's set to go live any day now.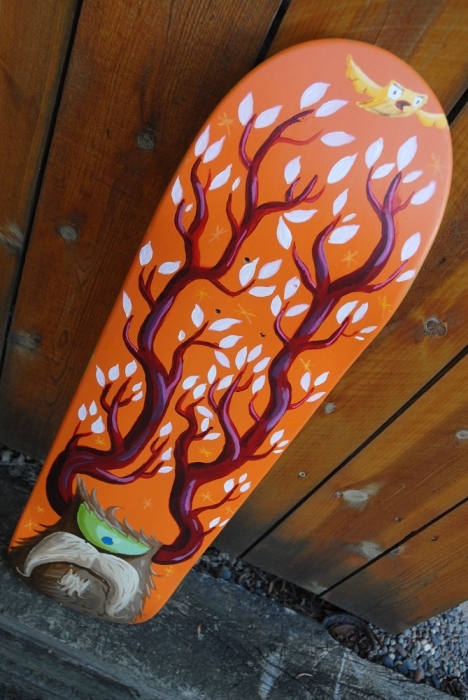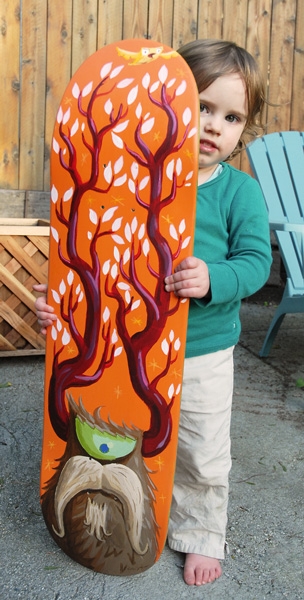 Category: